BOXER BABES
DDERWEN BOXER KENNEL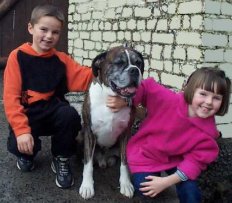 Edward, "Hippo" & Harriet
---
A CHANCE MEETING
In October 1999, we went to South Wales in our caravan for a short holiday. Whilst we were there, we thought we would pop in to see some friends who lived in Ammanford, Carmarthenshire, Wales
As we approached Ammanford, Becky, Edward and Harriet cried out "BOXER". On the side of a house was a large brown sign with a Boxers head on it. After my ears stopped ringing, I made a mental note of the location and we all agreed to take a closer look on the way back.
Shortly afterwards we arrived at our friends house and once the coffee and squash had been made, the conversation just happened to get around to the Boxer head sign. Our friend Val said in her soft welsh accent,"Oh, that must have been Joy Richards house you passed. I know her well". She then told us about her friend Joy and the family of Boxers.
Val gladly agreed (did she have a choice!) to ring Joy and see if we could pop in and see her and the Boxers. Joy said we were more than welcome to drop in and have a chat.
We later drove back to Joy's house and parked in the driveway by the side of the house. We met Joy and it was as if we had all known each other for years. Joy knew of Daisy's breeder, Michael Bruggenburg-Rothschild, as Joy had competed alongside Daisy's mother - Winuwuk Dizzy Drizzle on Filrosma.
Joy introduced us to her Boxer family, and it was like we had died and gone to heaven, being surrounded by her Boxers. The head of her Boxer line is the old gentleman, Dderwen Dapper "Hippo". Edward and Harriet loved being with him, as you can see by the photo above.
The time just flew by and it was with a sense of regret that we had to leave Joy and her Boxers. We agreed to keep in touch and met up again.
THE HOLIDAY
As school broke up for half-term in February 2000, we had arranged for one of Edwards friends to come and stay with us. Rather than leave Daisy and Dolly on their own, or have to cut short our day to get back to them, we decided to kill two birds with one stone. We rang Joy and asked if she had any room in her boarding kennels for Daisy and Dolly. Pleased to say that she had.

When we arrived, we were greeted by Joy and made to feel at home. Daisy and Dolly were booked in and we talked again about Boxers. This time I had a surprise for Joy.

I had brought with me, my file on UK Boxer Web sites and told Joy that she could borrow it for the week while Daisy and Dolly stayed in her kennels. I explained about the 'Boxer Babes' Web site and how I had put it together.

When we returned to collect Daisy and Dolly we could not believe how well they looked. Sometimes Daisy can come back from Kennels having lost some of her sparkle and bounce. This time they were both a picture of health.

Joy had read through my file and was interested in possibly having a Web site for her Boxers. I told her that she can pay someone to do it for her or, she can have a bash at it herself and I would help when needed. Joy had been playing with the idea of getting a computer, but now is definately looking into getting one and eventually putting a Web site together.
---
Here are two of Joy's Dderwen Boxers,
Dderwen Intercepter and Dderwen Izuzu
They are the main show team at the present time (March 2000).
DDERWEN INTERCEPTER
"Cyril"

1999
SWKA - Open Dog - 3rd

1997
CRUFTS - Special Yearling Dog - 2nd

DDERWEN IZUZU
"Ilish"

1999
CRUFTS - Limit Bitch - 4th
SWKA - Best Bitch CC & Open Bitch - 1st
SOUTHERN COUNTIES - Limit Bitch - 3rd

1998
CRUFTS - Post Graduate Bitch - 4th

IN ALL
7 BIS at All Breed Open Shows
They are from a mating of
Ch. Faerdorn Fineas Fogg
x
Cwmdonkin Rachael Thomas for Dderwen
"Lettuce"
(1 CC with BOB & 2nd in Group)
"Lettuce" is a daughter of Dderwen Dapper "Hippo" (See photograph above).
---
DDERWEN BOARDING KENNELS AND GROOMING CENTRE
If you feel after reading this, that you would like to know more about Joy's boarding kennels and grooming facilities, then listed below are her hours of opening and a contact phone number.
If you are enquiring as a direct result of reading this homepage, then please mention this at the time of phoning.
HOURS OPEN FOR BUSINESS

MONDAY - SATURDAY

9.30 - 1.30 and 2.30 - 6.30

SUNDAY

CLOSED

CONTACT PHONE NUMBER

MOBILE

07989 563729
---
THE LOW AND HIGH POINTS OF OWNING A BOXER
It is with a heavy heart that I have to announce that Joy's old friend Dderwen Dapper "Hippo" passed away on the morning of Friday 10 March 2000.
In the short time that we have known Joy, "Hippo" has had a special place in our heart. The children are especially upset and find it hard to believe that 'Hippo' will no longer be around to stroke and give hugs to.
It goes without saying that this loss has left a big hole in Joys life. Our love and support goes with her.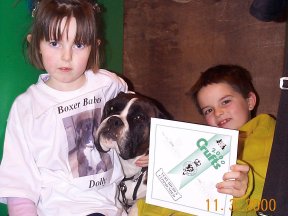 DDERWEN IZUZU
"Ilish"
2000
CRUFTS - Limit Bitch - 5th (VHC)
---

Created: 6 March 2000
Joy now has her own Web site at:
www.dderwenboxers.co.uk