BOXER BABES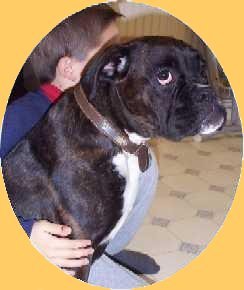 DOLLY'S
PAGE
---
THE NEW ADDITION
We decided in August '99 that it would be nice for Daisy to have a friend in the house, enter Dolly. We thought this time we would look around for a rescue boxer and give it a second chance in life. I was looking on the Internet and found the Thames Valley & West of England Boxer rescue centre which is based in Swindon, here in Wiltshire.

My wife, Becky, gave the rescue centre a ring to find out if they had any Boxers for re-homing. The lady who runs the centre said yes she had a few Boxers in, but none were ready to be re-homed. She informed us that she had a friend called Amanda who had a litter of Boxer pups for sale and that we should give her a ring.

The next day, Becky rang the lady and yes she had some Boxer pups for sale. However they were all spoken for, except for one and we were more than welcome to come and have a look. Before we left, we all agreed that we were only going to take a look and probably would not buy the pup!

When we got there we were met by the husband. He showed us into the back garden and we were met by five Boxers; the mother, an uncle and three adorable pups. He told us all about his boxers and that the mother was through the Walkon Boxers line.

He pointed out which Boxer pup was for sale and I asked him why it had not been sold. He said, "Look at her right eye." As you can see from Dolly's picture, her right eye has a slight droop on the bottom lid. This was the reason why people who were looking to breed from her in the years to come, were passing her over.

Suffice to say we all fell in love with Dolly. The next day we brought Daisy to the house to meet Dolly to see how they would get on together. They got on like a house on fire.

Daisy and Dolly are growing up the best of friends and it is hard to imagine how we survived without them. Our lives have changed dramatically and for the better.